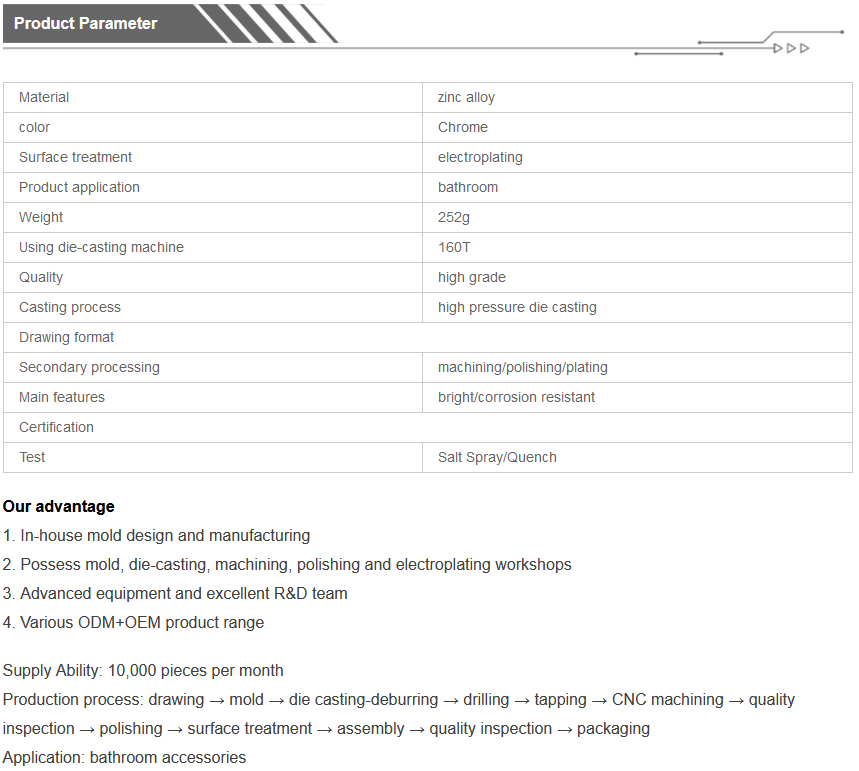 Product Introduction
1. Production process
The surface of high-quality door hardware is smooth, flat and free of air holes, burrs and blemishes. This is due to the large forging presses used to forge the hardware, the high mechanical strength of which makes the density of the material extremely high, and the dozens of precision machine tools to polish and grind the product to a mirror-like shine.
In contrast, inferior door hardware products are produced using small die-casting machines and rudimentary lathes, and generally have a loose structure.
2. Plating process
The plating layer of high-quality door hardware products is often bright and even, with a natural colour and good density, and the plating layer is visually thick. Poor quality door hardware products have dull plating, thin plating and are prone to rust, wear and tear, flaking and blistering in the short term.
Hardware with a strong sense of design brings a pleasant feeling not only visually, but also expresses a deeper level of taste in the home. You can choose from the following three points.
1, style coordination: the door lock shape style to match the home decoration style; advice: let the designer accompanied by reference or take the designer's proposed drawings to the market, so that it is easier to grasp the style problem.
2, colour matching: the colour of the door lock should be coordinated with the door and interior tones. Suggestion: listen to the designer's advice.
3, grade matching: a good horse with a good saddle, the grade of the door lock to match the grade of the decoration; in the middle and high grade decoration, only copper locks can match.
Packing and shipping
Packing details Bubble bag + export carton Port: FOB Port Ningbo Lead time
| | | | | |
| --- | --- | --- | --- | --- |
| Quantity (number of pieces) | 1-100 | 101-1000 | 1001-10000 | >10000 |
| Time (days) | 20 | 20 | 30 | 45 |
Payment and transportation: prepaid TT, T/T, L/C
competitive advantage
Accept small orders
fair price
Deliver on time
Timely service
We have more than 11 years of professional experience. As a manufacturer of bathroom accessories, we take quality, delivery time, cost, and risk as our core competitiveness, and all production lines can be effectively controlled
The products we make can be your sample or your design
We have a strong research and development team to solve the problem of bathroom hardware
There are many supporting manufacturers around our factory